Making of Detergent Powder?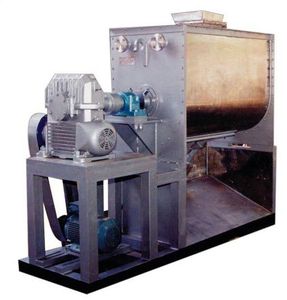 Laundry detergent is a highly efficient surfactants used to clean laundry items. Laundry detergent is a basically a mixture of chemical compounds available in both liquid and powder forms.
Laundry detergents contain both polar and non-polar components. The polar component allows the detergent to liquefy in the water, whereas the non-polar portion solubilizes greasy materials that are the usual target of the cleaning process.
Following are the three ways of manufacturing dry detergent:
The Blender Process
In the blender process, ingredients are put in a machine called ribbon blender. Ribbon blender is a machine cylindrical in shape, fitted with blades to mix the ingredients. After the ingredients are mixed inside the ribbon blender, an opening at the bottom is opened. Then the mixture of ingredients runs into a conveyor belt which is a channeling device. The conveyor belt moves the mixture to another area in the factory to be packed for delivery.
The Agglomeration Process

In the agglomeration process, dry detergents are first put into a machine called agglomerator. Inside the machine, sharp blades moving in a whirling motion mix the ingredients to a fine consistency. This process is similar to the grinding of food materials in a food processor.After the dry ingredients are blended in the machine, liquid ingredients are added in the dry mix. The blending then continues to cause an exothermic reaction resulting in the formation of hot thick liquid.
Then this hot liquid is directed out of the machine on a drying belt where its own heat, exposure to air, and hot air blowers leave it friable. This detergent is then crushed to a fine powder form and passed through sizing screens to ensure that no large lumps are remained. This process produces a dry detergent of granules.
The Slurry Method
In the slurry method, ingredients are dissolved in water to create a semi-liquid or slurry mixture. Then the slurry is driven through nozzles with a pump inside the top of a cone shaped container while hot, dry air is simultaneously forced into the cone's bottom. Beads of dry detergent fall to the bottom of the cone as the slurry dries. These beads are then collected for packaging.
Alisha Machines Pvt. Ltd. offers a wide range of machinery for the production of laundry detergent to small and large businesses in India and abroad. Alisha Machines has created a niche for itself in the world ofmachine manufacturing and supplying with experience and dedication.
To be informed of the latest articles, subscribe: